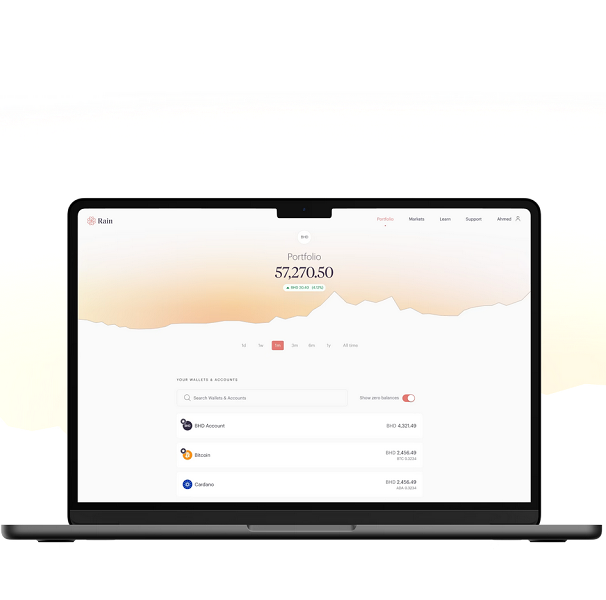 Rain ADGM launches instant AED banking deposits and exclusive OTC desk for institutional clients in the UAE
Rain ADGM is now proud to provide retail and institutional customers a second to none funding experience for virtual assets in the UAE, through their local banking partner who is fully regulated by the Central Bank of the United Arab Emirates. This significant milestone allows UAE residents instant unrestricted funding and withdrawal access.  This further enhances Rain ADGM's funding infrastructure and users in the UAE can benefit through a secure and seamless transition from fiat currency to virtual assets. Rain ADGM operates under the supervision of the Financial Services Regulatory Authority (FSRA) of the Abu Dhabi Global Market (ADGM).
In addition to the innovative banking stream, Rain ADGM is proud to expand its OTC (Over the Counter) service, offering high-net-worth and institutional clients a white-glove, institutional-grade brokerage facility for execution of  larger virtual asset trade orders. The OTC Desk will provide clients with a customized trading experience and block trading for precise execution at the best value.
Rain OTC Desk will facilitate seamless and secure over-the-counter (OTC) trading for clients, by offering a more customized execution and settlement service, and sourcing competitive pricing, This exclusive offering will be available to high-net-worth and institutional clients, further solidifying Rain ADGM's commitment to delivering cutting-edge solutions to its diverse clientele.
Emmanuel Alamu, Global Head of OTC, added that "Our integration with the local banking infrastructure is a comprehensive step forward in building a cohesive virtual asset community in the UAE. With near-instant bank deposits, we are now able to bring the quality of localised OTC services in the UAE materially closer to both the efficiency and depth of more established global virtual asset markets within Europe and Asia."
Rain ADGM's expertise in the virtual asset industry and its dedication to compliance align with ADGM's vision of fostering growth and investment opportunities in the virtual asset sector. ADGM's virtual asset framework, established in 2018, has positioned the jurisdiction as a global leader in virtual asset regulation, providing a secure and conducive environment for businesses and investors alike.
Stay tuned for more updates and developments as Rain ADGM continues to shape the future of virtual assets in the region.