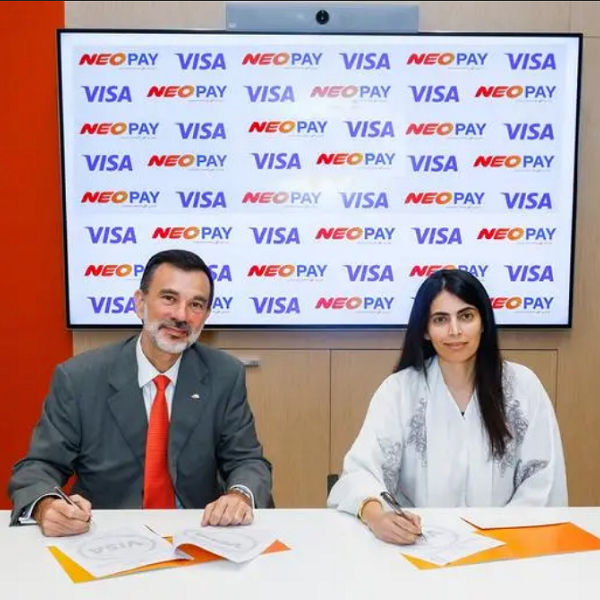 NEOPAY and Visa partner to launch flexible payment solution in the UAE
Digital payments leader Visa and NEOPAY, the payment subsidiary of Mashreq, have partnered to bring an exciting new instalment payment solution to the UAE market. The strategic partnership aims to offer consumers greater flexibility and convenience when making purchases.
Under the terms of the agreement, Visa and NEOPAY will collaborate to develop and launch a cutting-edge instalment payment solution that will revolutionize how consumers pay for their retail transactions. This solution will enable consumers with credit cards to split their purchases into convenient and manageable monthly instalments, empowering them to manage their budgets effectively and make larger purchases more affordable.
The partnership comes at a time when consumers are increasingly seeking out 'Buy Now, Pay Later' payment options that align with their financial needs and preferences. A recent survey by Euromonitor in the UAE highlighted that 48% of consumers find instalments make high prices more manageable and less intimidating, while 37% believe these installment offers help in handling unexpected expenses. Furthermore, 44% of customers perceive instalments as more flexible than other payment options, and an equal percentage admitted to spending more than planned on an instalment purchase. With these data-driven insights, Visa and NEOPAY are committed to empowering consumers with enhanced financial convenience and flexibility through their innovative instalment solution.
"We are excited to announce this strategic collaboration with NEOPAY," said Dr. Saeeda Jaffar, Visa's Senior Vice President and Group Country Manager for GCC. "The demand for instalment payment solutions has been rapidly growing in the UAE, as supported by the research conducted in Euromonitor, revealing that 20% of consumer credit card purchase volume is now converted to installments. We believe that this innovative offering will address the evolving needs of consumers while at the same time driving digital transformation in the UAE market."
Fernando Morillo, Group Head of Retail Banking at Mashreq, added, "This partnership enables us to combine our expertise in financial solutions with Visa's global network and technology capabilities. Working together, we aim to provide an exceptional instalment payment experience that empowers consumers to make purchases with confidence and convenience."
Visa's Instalment Solution (VIS) is designed to cater to the surging demand for flexible payments, providing a seamless and efficient tool for both in-store and online shopping using the Visa card. Using the VIS model, shoppers can make purchases across various points of sale terminals and eCommerce channels with ease and select their payment terms. There is no additional credit assessment required and consumers can use their existing bank credit card to apply for installment offer. It also accelerates growth for merchants and helps gain customers by offering flexible payment solutions.
Notably, this solution supports greater flexibility and control over financial planning for the customer, by distributing the cost of the goods they need. It offers a real-time installment solution for consumers, promoting a smooth and hassle-free payment experience, while also enhancing operational efficiency for banks.
Furthermore, Visa's Instalment Solution opens up cross-border transaction opportunities with selected corridors, with future plans in place in key markets such as the Kingdom of Saudi Arabia and Qatar. By actively implementing its network-based instalment solution in significant regions, including North America, Asia Pacific, Middle East, and Europe, Visa aims to empower consumers with flexible payment options and drive increased conversion rates for merchants.
The new instalment payment solution is expected to launch in UAE soon. Once implemented, consumers will be able to take advantage of this convenient and flexible payment option at participating retailers across various industries.