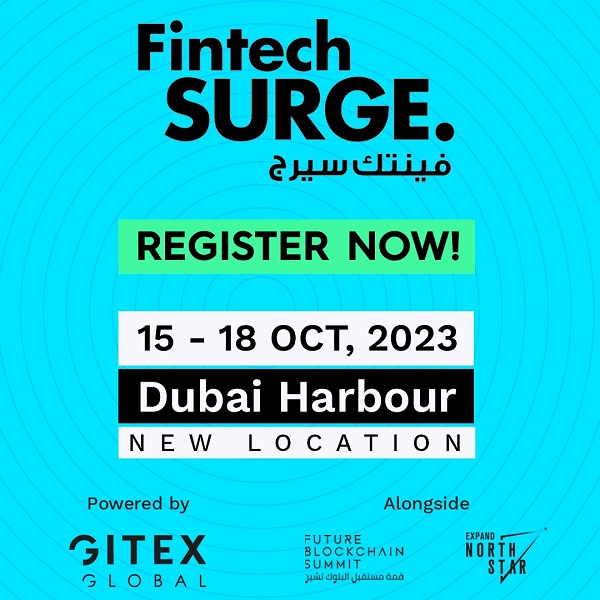 Forus announced as Gold Sponsor at Dubai's Fintech Surge 2023
Fintech Surge, a sought after gathering for the global fintech industry, announces Forus, a leading name in the global financial technology sector, as a Gold Sponsor for the 2023 edition.
The Fintech Surge event will take place from 15-18 October at Dubai Harbour, convening the entire fintech ecosystem to explore and shape the future of financial technology.
As the industry-defining location for financial innovations, strategic guidance and investment insights, Fintech Surge 2023 provides a platform for thought leaders, entrepreneurs, investors, and policymakers to collaborate, share insights, and drive innovation in the fintech domain. This year's theme, "Revolutionising financial services through technology," aligns seamlessly with Forus' commitment to transforming and enhancing financial experiences through cutting-edge technology solutions.
As a Gold Sponsor, Forus demonstrates its unwavering dedication to fostering growth and progress within the fintech ecosystem. The sponsorship showcases Forus' pivotal role in shaping the industry landscape and its dedication to driving advancements in financial technology that empower individuals and businesses to thrive in the digital age.
Nosaibah Alrajhi, Founder and CEO at Forus, commented, "We are excited to be a part of Fintech Surge 2023 as a Gold Sponsor. This event presents an excellent opportunity to engage with the brightest minds in the fintech space and contribute to meaningful conversations surrounding innovation, digital transformation, and the future of finance.. Our commitment to providing seamless and technologically advanced financial solutions aligns perfectly with the event's objectives, and we look forward to meaningful discussions and collaborations."
Attendees of Fintech Surge 2023 will gain actionable insights on the trends propelling the industry and discuss solutions to challenges in fintech, as well as collaborate to transform global business strategies. Alongside more than 100 exhibitors, from leading international companies to the most disruptive startups across paytech, insurtech, regtech, wealth and asset management, digital banking and more, Forus will showcase its cutting-edge solutions that empower individuals and businesses to navigate the evolving financial landscape efficiently and effectively.
Forus encourages all attendees to visit its booth at Hall 7 and engage with its team of experts to explore how its innovative solutions can drive financial growth, security, and convenience.