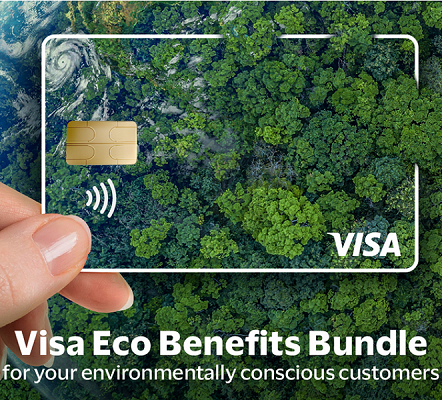 Visa partners with German fintech ecolytiq to launch 'Visa Eco Benefits' in the UAE
Visa has announced the launch of its Visa Eco Benefits solution in the United Arab Emirates in partnership with the Berlin-based fintech and Visa partner ecolytiq and its Sustainability-as-a-Service® solution.
Visa Eco Benefits will allow Visa issuers to add sustainability-focused solutions to existing Visa credit and debit products, enabling cardholders to understand the impact of their spending on the environment, as well as encouraging sustainable consumption and behaviors.
With this new offering, Visa reaffirms its commitment to driving sustainable commerce and climate action in the payments industry, supporting its clients' objectives to meet increasing demand from cardholders for sustainable and purpose-led products.
"With consumer concerns around sustainability at an all-time high, Visa Eco Benefits give financial institutions a tool to help their clients better understand their impact, facilitate daily behavior change, and make positive climate contributions," says Otto Williams, SVP Head of Product, Solutions and Partnerships CEMEA.
The Visa Eco Benefits solution features tools such as:
Carbon footprint calculator, a proprietary algorithm that transforms transaction details into the estimated carbon footprint of cardholders' spend.
Expanded rewards for cardholders for sustainable behaviors as decided by their bank.
Access to environmental projects helping customers towards net zero goals through charity donations and carbon credits.
Personalized education for customers in the form of small content pieces with recommendations about how to live a more sustainable lifestyle.
Sustainable card material program and specific marketing of the products with the eco-conscious goal
According to a recent GlobeScan study, global concern about climate change is at an all-time high and a majority of people living with children under the age of 18 say their children are very worried about environmental problems and climate change.
The Visa Eco Benefits bundle is a continuation of Visa's global aspiration to be a climate positive company, using its products, services, data, network and brand to drive sustainable commerce and support the transition to a low-carbon economy. In 2021, Visa announced a pledge to reach net-zero emissions by 2040, ten years ahead of the Paris Climate Agreement goal.
"Sustainability is the challenge of our time, but also one of the greatest opportunities for the finance industry," said Ulrich Pietsch, Co-Founder and Managing Director at ecolytiq. "Equipped with the right tools like the Visa Eco Benefits bundle, the finance industry becomes the driving force for change by educating millions of consumers about their impact and by empowering them to take effective climate action to build the sustainable future we all deserve."