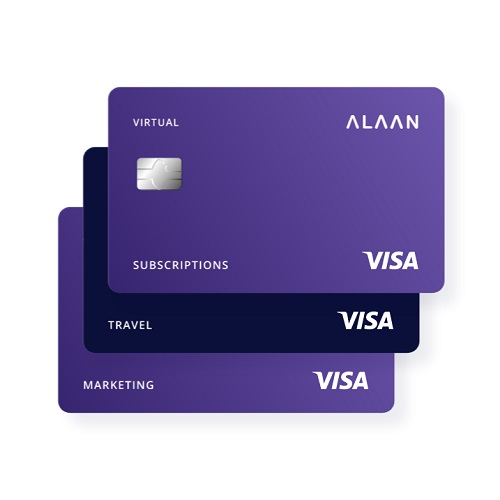 UAE fintech Alaan raises $4.5 million in a pre-Series A round
UAE-based Alaan, a leading spend management platform for Middle Eastern businesses, has raised $4.5 million pre-Series A funding, backed by Presight Capital, Y Combinator, and angel investors.
Together with the $2.5 million seed round last year, Alaan has now raised a total of $7 million in equity.
Alaan's platform allows businesses to instantly issue physical and virtual cards for managing all their business expenses, including e-commerce transactions, SaaS subscriptions, vendor payments, government services, or in-store purchases. These cards can be set up with daily or monthly spending limits and can also be locked to be used only with specific merchants such as fuel stations. The platform eliminates the need for expense reports and petty cash and automates bookkeeping tasks via seamless integration with leading accounting solution providers such as Xero, QuickBooks and Microsoft Dynamics.
Commenting on the latest investment round, Parthi Duraisamy, CEO and Co-Founder of Alaan said, "Our team has grown rapidly since we founded Alaan. Since the last financing round, not only have we launched and expanded quickly but we have also been able to introduce remarkable product innovations, including AI-powered workflow automation for managing spend and seamless accounting sync. Our cashback card offers a unique benefit in the Middle East corporate card and spend management space. With the new funds, we are excited to further enhance our offering and expand our reach in new markets as we continue to help businesses improve their efficiency, productivity, and employee experience through Alaan."
Jad Halaoui, Co-Founder of Washmen and a client of Alaan chose to participate in this investment round after utilising the platform for a few months. He said, "Alaan has shaved off hours from team members in operations, accounting, finance and even marketing. It has transformed the way money flows and is controlled at Washmen. Their product shows they have a deep understanding of what companies need to streamline their finances and governance with simplicity. I strongly believe in the team and their ability to help other businesses like ours experience the same benefits."
Fabian Hansen, Co-Founder and General Partner of Presight Capital said, "We have always been a big believer of Alaan's mission, and we invested in their seed round last year. The impressive traction that Alaan has achieved within the first three months of launch has only served to reinforce our conviction. Hence, we chose to double down on our investment to support their expansion in the Middle East."
Founded by ex-McKinsey employees Parthi Duraisamy and Karun Kurien, Alaan has seen stellar growth since its launch in August 2022. Currently, more than 100 businesses in the UAE with a combined total of over 5000 employees are benefitting from Alaan's platform. Alaan crossed double-digit millions in payment volume within three months of its launch and averaged a monthly growth of 500% in 2022. It is now doubling down on its UAE growth and is planning to use the new funds for expansion across the GCC. Alongside international growth, Alaan plans to enhance its product, with new features including automated invoice payments to domestic and international suppliers.