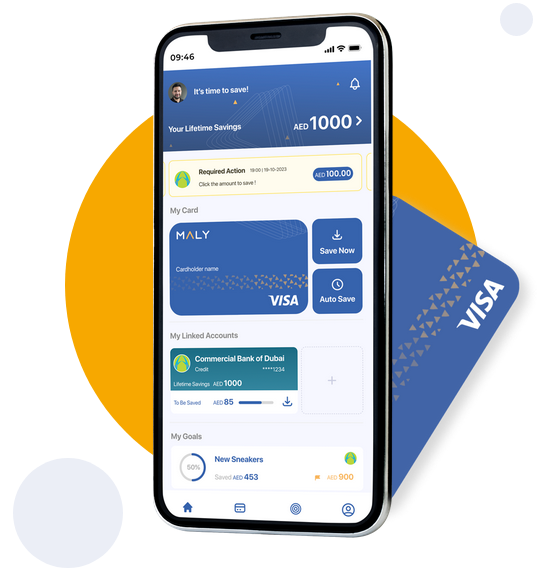 UAE financial wellness platform MALY closes pre-seed funding round over $1.6 million
Dubai-based financial wellness platform MALY has announced the successful conclusion of its pre-seed funding round, securing an investment exceeding $1.6 million to grow its automated savings app and its bank-linked card.
The fintech startup secured the funding via a group of leading GCC-based angel investors after sharing its plans to transform the UAE's financial wellness and expand into other regional markets.
The demand for financial tools that foster healthier saving and investment habits is high in MENA, where people face increasing economic pressures. About 60% of the population in MALY's two primary target markets – the UAE and KSA – do not have any type of pension or savings plan.
MALY is ideally positioned to bridge this large gap by providing an accessible, user-friendly platform that offers smart saving tools, debt management, spending guidance, and investment plans. These areas provide users with actionable steps to achieve their financial goals while building long-term stability.
"Our mission is simple yet profound: to make improving financial wellness accessible for individuals across the MENA region," said Mo Ibrahim, Co-Founder and CEO of MALY. "The remarkable pre-seed funding we've received will enable MALY to kickstart its growth journey. It will enable us to scale efficiently by creating partnerships to reach new customers and drive platform development with enriched product features."
MALY has already earned praise from beta-stage users impressed with the platform's intuitive features and user-centric interface. Its automated savings app and VISA card link with all major UAE banks, enabling customers to effortlessly save by automatically rounding-up small amounts from daily purchases via a built-in micro-saving tool. They can also manage outstanding debts with smart repayment goals, automate saving deposits, spend with a free VISA card, and learn about investment techniques.
The newly raised pre-seeding funding will go toward a new growth phase involving the latest AI technologies.
"At MALY, we see a unique opportunity to help people across MENA improve their financial wellness, and harnessing the power of AI will be a huge factor in this," said Ibrahim. "Since inception, we've built in-house data engineering pipelines to embed machine learning into our platform. Aided by recent technological advances, we can now offer data-driven personalized recommendations to help our customers sustain a healthy relationship with their finances."
The successful pre-seeding phase is the latest stage of an ambitious business development plan put into motion by Team MALY's blend of experienced founders and a young and talented core team. The start-up has forged strategic partnerships with other major brands, including VISA, NymCard, and DAPI, as it aims to become a leading player in the MENA financial wellness sector.