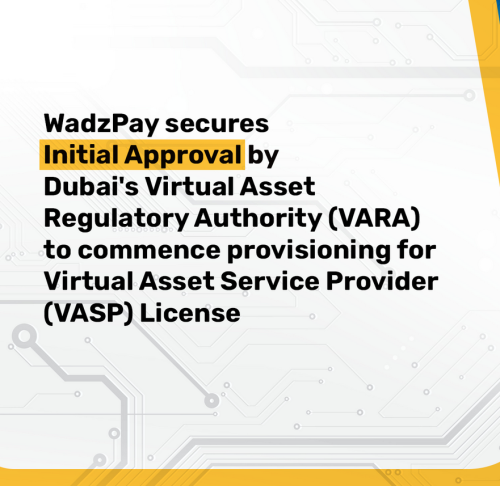 Singapore headquartered fintech WadzPay receives initial approval from Dubai's VARA
Singapore headquartered fintech WadzPay has been granted 'Initial Approval' by Dubai's Virtual Assets Regulatory Authority (VARA), marking a pivotal step in Wadzpay's journey towards obtaining a Virtual Asset Service Provider (VASP) License for virtual asset services and activities.
"We are immensely honoured to have received initial approval from VARA," said Anish Jain, Founder and Group CEO of WadzPay. "This recognition reaffirms our commitment to delivering cutting-edge blockchain-based solutions that not only revolutionize but also adhere to the highest regulatory standards. We are grateful for the opportunity to contribute to the growth of the fintech ecosystem in the UAE."
This Initial Approval is a key milestone and allows WadzPay to commence preparations for the provision of virtual asset services and activities under the VASP License for Transfer & Settlement and Broker/Dealer activities.
"Receiving VARA's initial approval is a testament to our unwavering dedication to regulatory and compliance excellence," said Khaled Moharem, President – MENA at WadzPay. "We've built a robust ecosystem that not only meets but exceeds industry standards, guaranteeing a safe and efficient gateway to virtual assets for users in the UAE. We're poised to launch with strict adherence to VARA's requirements, ushering in a new era of secure and seamless access to the world of virtual assets."
While the initial approval is a pivotal achievement, WadzPay emphasizes that it is still in the process of working towards receiving the final approval from VARA and the VASP license. This progression marks a crucial step towards obtaining the necessary regulatory green light to fully operate within the UAE and bring its innovative products and solutions to life.