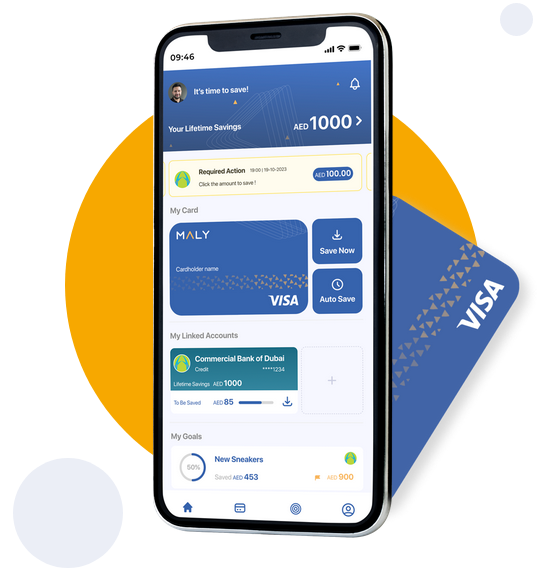 Next-gen digital savings and money mentor app MALY is ready to lead the way in KSA
Fuelled by nearly 100% smartphone penetration, rising adoption of digital savings platforms, a growing concern regarding financial education, and a national vision focused on propelling Saudi Arabia to the forefront of fintech, the Kingdom is going all-in on financial solutions and accessible financial wellness advice.
And MALY, the next-gen digital savings and money mentor app, is ready to lead the way.
"Established earlier in 2022 as a financial wellness platform designed to help people cultivate better money habits, MALY will help plug crucial gaps in Saudi Arabia's struggling consumer savings sector," said Mo Ibrahim, the company's Co-Founder and CEO.
"Worryingly, various estimates cite up to 70 per cent of the Saudi population as having no savings at all," said Ibrahim. "This is despite the reality of immense economic challenges facing people, including rising living costs, high household debt exposure, global market volatility, and lack of personal financial security and planning regionwide. These economic pressures and limited access to financial education and associated tools mean 60 per cent of people in the UAE and KSA have no adequate financial security.
"People need help in building healthier relationships with their finances and fintechs can provide the necessary tools and platforms to enable individual financial wellness."
Ibrahim says fintech growth in the Kingdom will also benefit from government commitments in the Saudi National Fintech Strategy (SNFS). Launched by the Financial Sector Development Program and aimed at propelling the nation into a FinTech leader, the SNFS envisions Riyadh as a global hub that will enhance the economic empowerment for both individuals and local communities. The strategy aims to drive fintech innovation, increase the number of fintech players in the Kingdom to 230, and grow digital transactions by 70 per cent by 2025.
"There is a very clear mandate from the Kingdom's progressive leadership to drive better economic outputs, savings, and digitisation across all sectors," added Ibrahim. "This promotion of savings and investment at an individual level is now a key priority for financial policy decision-makers."
Ibrahim says MALY is in a unique position to help drive a seamless execution of the Saudi vision through its focus on financial wellness; its cutting-edge technologies primarily leveraging the power of data science, machine learning, and strong in-house technical expertise. MALY, he says, is an essential toolbox to help people automate and manage personal savings and investments effectively with time-based plans, debt management tools, responsible borrowing, and investment techniques.
"Just like keeping fit, building great financial health comes from small steps. Just as regular exercise and a balanced diet maintain physical health, regular monitoring of finances, positive saving habits, and sensible investing can help fiscal fitness grow. And just as any person may enlist the help of a personal trainer, a financial wellness platform can be a trainer, with the tools, guidance, and resources needed to achieve financial goals," added Ibrahim.
"MALY will play a key role in accelerating the Middle East and North Africa's financial literacy and inclusion rates, says Ibrahim. Those rates are already on an upward trajectory according to The World Bank's Global Financial Inclusion DataBank, which shows 85.7 per cent of people aged 15 and above in the UAE and 74.3 per cent in Saudi Arabia own and operate a bank account, while 23.9 per cent and 32.4 per cent of the respective segments have borrowed from financial institutions. The MALY platform will set in motion soon its developing AI-powered Financial Stress Tracker, leveraging Open Banking to identify patterns and trends that indicate financial stress, to provide customers with personalized advice on reducing their financial stress, and a personalized financial education programs to help people learn through conversational contexts more about their finances and make better financial decisions," Ibrahim concluded.