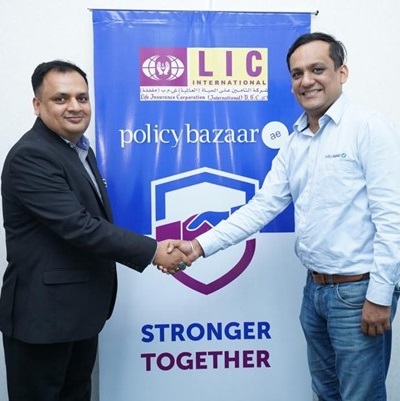 LIC International and Policybazaar UAE partner on insurance aggregation and technology solutions
The strategic partnership between LIC International and Policybazaar.ae aims to revolutionize the insurance industry by leveraging Policybazaar's expertise in insurance aggregation and technology solutions. LIC International, a joint venture company owned by the Life Insurance Corporation of India, will collaborate with Policybazaar to develop customer-centric journeys, enhance product marketing, and gather user input to drive online product uptake.
LIC International is a well-known niche brand in the Gulf Cooperation Council (GCC) region, offering capital guaranteed savings cum insurance plans denominated in USD, aligning with the UAE Dirham's dollar peg. With this partnership, LIC International aims to expand its online distribution space and make its products more accessible to customers. Policybazaar will assist LIC International in building a platform that enables customers to learn, compare, and make informed decisions before purchasing insurance products. The platform will also facilitate customer support for any issues that may arise.
Dr. Pradeep Mishra, LIC International's Resident Manager in Dubai, expressed excitement about the collaboration, emphasizing the goal of delivering exceptional customer experiences in the life insurance industry. By combining LIC International's understanding of the insurance landscape with Policybazaar's technology solutions, they aim to transform the perception, purchase, and experience of insurance products online.
Neeraj Gupta, CEO of Policybazaar.ae, highlighted the partnership's benefits, including the use of innovative technology solutions to enhance LIC International's marketing efforts and gather valuable user feedback. These insights will enable LIC International to continuously improve and optimize their product offerings.
By leveraging Policybazaar's expertise, LIC International intends to gain a competitive edge by delivering targeted marketing campaigns and ensuring that the right products reach the right customers at the right time. The partnership will also allow LIC International to refine their products based on user feedback, making them more accessible, relevant, and appealing to a broader customer base.