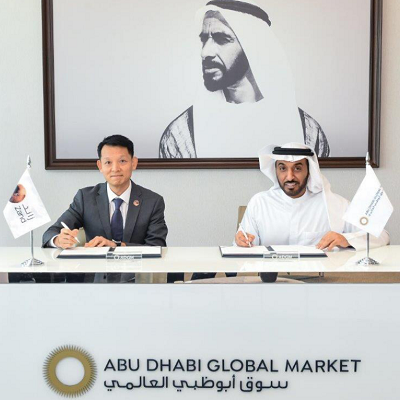 ADGM partners with fintech Zand Bank to provide preferential banking services to UAE SMEs
Abu Dhabi Global Market (ADGM) and Zand Bank, the UAE's first all-digital bank licensed by the UAE Central Bank, have signed a Memorandum of Understanding (MoU) to support UAE SMEs and provide preferential banking services.
The agreement will focus on providing preferential banking services including efficient bank account opening for ADGM-licensed entities, including SMEs, virtual assets companies, funds, and corporations. The collaboration aims to empower the ADGM community and SMEs incorporated in ADGM by offering a curated value proposition for those, including access to SMEsouk, Zand's digital platform for SMEs. ADGM and Zand Bank will work together on developing a capacity-building programme to improve knowledge exchange between employees and potential clients through educational sessions across sectors and stakeholders, networking, and training.
As per the agreement, ADGM will work together with Zand Bank to drive UAE national work placements and offer tailored finance training programmes, SME financing platforms, a Fintech sandbox, and corporate innovation programmes. The ADGM community will be supported by dedicated client managers during the client onboarding and engagement process. Additionally, the partnership will enable awareness of the Fintech opportunities and initiatives in Abu Dhabi and develop an ecosystem of Fintech partners.
Zand Bank was built to change the way the UAE banks, leveraging the power of advanced data capabilities, an agile operating model, and cutting-edge technologies to simultaneously simplify and upgrade the customer experience. In alignment with the UAE's digital agenda, Zand Bank is determined to become the gateway to the markets of the wider region.
ADGM will support Zand Bank in its business development efforts and the penetration of the largest 100 ADGM-incorporated entities through investment banking services. Through the agreement, Zand Bank will allocate a help desk to serve the needs of the employees of ADGM, and ADGM-incorporated entities. The help desk will serve as the initial point of contact for all employee banking needs, including providing information, responding to inquiries, receiving complaints, and introducing employees who are interested in Zand's diverse offerings.
Commenting on this partnership, Dhaher bin Dhaher Al Mheiri, CEO of ADGM, said, "We are pleased to partner with Zand Bank to collaborate on mutually beneficial initiatives and empower ADGM's community with dedicated banking services. SMEs exist as one of the main pillars of economic diversification in the UAE and Abu Dhabi. They are important contributors to ADGM's vibrant ecosystem. Enabling digital financial services through Zand bank in both the retail and corporate space for these SMEs is a testament to our continued efforts to support their growth and expansion in the global financial hub. We look forward to witnessing the long-term growth this impactful partnership presents to the ADGM community and the SMEs of the UAE."
Commenting on the announcement, Michael Chan, CEO at Zand Bank said, "We are delighted to partner with ADGM to support technology SMEs and start-ups across the UAE. As the international financial centre in Abu Dhabi, ADGM houses a number of diverse businesses, all looking to grow and expand their footprint in the region. We strive to financially empower these businesses in the ADGM community, through our innovative, customer-centric and superior digital banking offerings."
Zand Bank will be the sixth bank that ADGM has partnered with in addition to many other prominent banks operating in the capital city and the UAE.