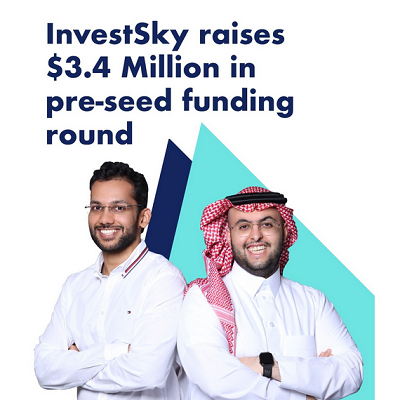 UAE social investing startup InvestSky launches following a $3.4 million pre-seed fundraise
InvestSky, a social investing platform for a new generation of retail investors across GCC, has raised $3.4 million in a pre-seed funding round led by Emkan Capital, and joined by prominent investors including S3 Ventures, Al-Romaizan Family office, Mishal Al-Mishari, the Deputy CEO of Jahez, and notable angel investors.
InvestSky is launching a social investing commission-free platform tailored for a new generation of investors in the GCC with the aim of making investing inclusive, intuitive, and informed. The platform allows users to buy fractional stocks starting from $1 (3.67 AED) and provides a social community for users to collaborate. It will also provide market intelligence data which will further empower investors to make more informed decisions aligned with their investment principles whether they are shariah-compliance or focused on positive social and environmental impacts. The startup received a category 4 license with retail endorsement from Dubai Financial Services Authority (DFSA), the Independent regulator of financial services conducted in or from DIFC.
The UAE startup was founded in 2021 by Nitish Mittal and Turki Alshaikh. Mittal has built a career working in leading tech companies including Rocket Internet and was part of the foundational team at regional e-commerce giant noon.com, where he held the position of VP of Technology before founding InvestSky. Alshaikh previously worked in consulting at Deloitte and investing at Jada Fund of Funds as an early employee.
InvestSky CEO Nitish Mittal commented, "We founded InvestSky on the recognition that retail investors are a hugely influential group across the middle east, yet the offering for them is clearly lagging behind. The region has not scratched the surface when it comes to the engagement and education of retail investors, especially considering the significant purchasing power, high GDP per capita and beneficial demographics. We intend to offer an empowering platform that helps educate our users to make sound investment decisions; powered by socially connected tools that will help build a collaborative community in the region."
Turki Alshaikh, Co-Founder of InvestSky, added, "The retail investor services market in the region is still highly untapped. The number of retail investors using fintech solutions grew by more than 180% over the past year, in Saudi alone, according to the CMA. Beyond this, we see a big gap in financial inclusion, with female retail investors making up less than 27% of investors. We believe that educating our users is key to building a sustainable market by improving both financial literacy and inclusion."
Ghassan Aloshban, General Partner at Emkan, said, "We are very proud to add InvestSky to our portfolio of companies; not only are Turki and Nitish exceptional entrepreneurs but they have built a world-class product that could easily compete with the best trading platforms globally. This coupled with an addressable market of roughly $1.2 trillion USD in retail investment flows in MENA and roughly 8 million retail investors in the GCC alone make for an incredibly exciting opportunity to capture market share with social trading."
Yousef Al Yousefi, Managing Partner at S3 Capital, added, "Social investing will transform many elements of the large, fragmented money management market. The reason we chose InvestSky is its passionate founding team who possesses both intelligence and winning attitudes. We also believe in the social impact of raising retail investor awareness of the importance of saving and investing."
Mishal Al-Mishari, Deputy CEO at Jahez, added, "Undeniably, Saudi's Vision 2030 has been a catalyst for the surge of investments in the fintech space. InvestSky provides an attractive and exceptional product that combines financial services with a socially engaged online community, as well as rich content and information sources. InvestSky is launching a unique experience for investors."