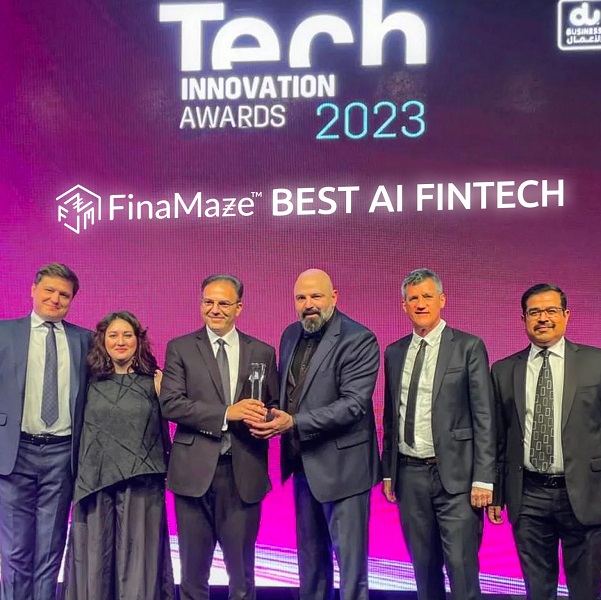 UAE fintech FinaMaze awarded the "AI Fintech Innovation" award at the Entrepreneur Tech Innovation Awards 2023
FinaMaze, the AI Digital Wealth Manager regulated by the Financial Services Regulatory Authority in the ADGM, has announced its the recipient of the "AI Fintech Innovation" Award at the Entrepreneur Tech Innovation Awards 2023, held yesterday at Sofitel the Palm, Dubai.
CEO Mehdi Fichtali commented, "We are honored to receive this significant award, reflecting our ongoing commitment to integrating AI and human expertise to deliver advanced, personalized investment solutions. This recognition underscores our dedication to innovation, transparency, and the provision of realistic investment scenarios in the MENA region and beyond."
This award follows a period of expansion for FinaMaze into the European B2B banking market, marked by the appointment of Michael McManus-Schouchana as a board advisor for FinaMaze Europe and the launch of the B2B Roboadvisor 3.0. This end-to-end automated Web & App solution, designed for personalized wealth and asset management, facilitates the construction of personalized micro-portfolios suited to 4,000 distinct risk profiles and enables meticulous management across various asset classes.
FinaMaze, inspired by Nobel Prize-winning academics, integrates AI, Data Science, Quantitative Finance, and Software Engineering to provide innovative investment solutions, embodying its core value of "AI at the service of Humans." The company maintains a steadfast commitment to innovation, ethical conduct and the attainment of realistic and secure investment outcomes.
The Entrepreneur Tech Innovation Awards, organized by Entrepreneur Middle East, brings together industry leaders to recognize achievements and innovations in the tech sector, highlighting the contributions of individuals and organizations in shaping the industry's future.