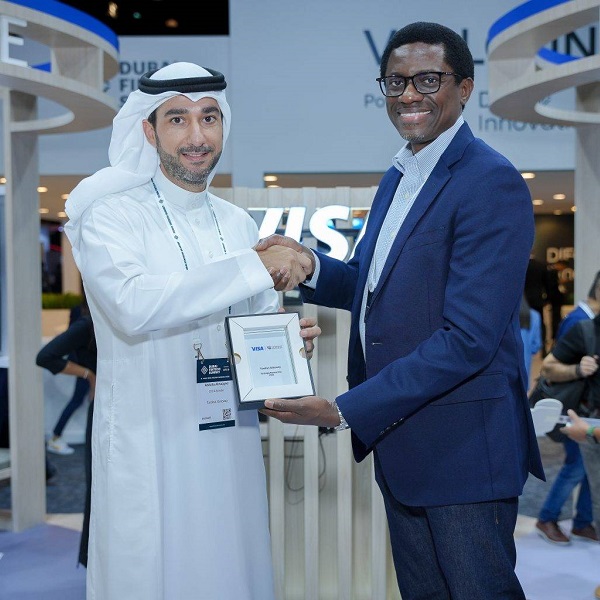 Tarabut Gateway partners with Visa to develop new products and solutions using open banking capabilities
Tarabut Gateway's Abdulla Almoayed (left) & Visa's Otto Williams (right)
Tarabut Gateway, the Middle East and North Africa's leading open banking platform, has today announced a strategic partnership with the global digital payment leader Visa.
The two companies will collaborate on developing new products and solutions using open banking capabilities. The initial focus will be on creating data-driven offerings such as credit risk assessments, advanced analytics, and insights. Additional solutions anticipated will involve cross-border payments and lending.
The partnership will elevate product offerings through technology and expertise collaboration, enhance customer experiences, streamline cross-border transactions, and foster innovation and cooperation across the financial ecosystem.
This announcement follows Tarabut Gateway's recent US$32 million fundraise, in which Visa participated as an investor – marking their first venture into the MENA open banking sector – and cementing the two companies' financial and operational collaboration moving forward.
The investment in Tarabut Gateway is consistent with Visa's open banking strategy to partner and invest in leading companies for the co-development of innovative products and solutions and follows last year's acquisition of Tink, one of Europe's leading open banking platforms.
Abdulla Almoayed, Founder and CEO of Tarabut Gateway, said, "We are excited to announce our strategic partnership with Visa, a world-class brand. Our existing close relationship, through Visa's investment in Tarabut Gateway, has paved the way for this collaboration. The progress of open banking in the Middle East in recent years has been remarkable, and we are grateful for the opportunity to lead the sector and support the entire ecosystem.
"Together with Visa, we will leverage our data infrastructure to bring new and improved products to customers. As a visionary in the payments industry, Visa's solutions will support innovation and collaboration across the MENA financial sector, and our strategic alignment will strengthen this partnership."
Commenting on the partnership, Otto Williams, Senior Vice-President and Head of Product, Partnerships, and Digital Solutions for Visa Central and Eastern Europe, Middle East, and Africa, added, "The future of financial services is being shaped by next-gen digital innovation, with open banking and data sharing serving as a significant driver to help consumers better manage and access their finances. As we look to the future of digital financial services, it is clear that the key drivers of growth will be innovation and openness. By partnering with Tarabut Gateway and integrating our global payments network with their open banking platform, we are poised to deliver innovative financial services that cater to the unique needs of the MENA region. Our shared commitment to next-generation solutions will enable us to transform the financial landscape and offer cutting-edge services to our customers."
Tarabut Gateway provides platform-agnostic solutions for banks, merchants and fintech to build apps, and its user-friendly APIs enable various services such as lending, personal finance, and payments. The company is building an open banking infrastructure across Saudi Arabia, the UAE, and Bahrain, with plans for further MENA expansion.