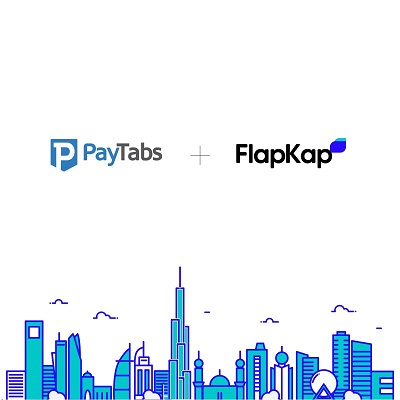 Fintechs PayTabs and FlapKap collaborate to 'superpower' UAE eCommerce brands
PayTabs, MEASA's award-winning payment solutions provider, has announced a strategic partnership with FlapKap, MENA's leading revenue-based financing platform.
The collaboration between the two firms aims to support new and existing PayTabs entrepreneurs, webpreneurs and small and medium eCommerce businesses (SMEs) based in the UAE to obtain a fast and flexible funding offer within hours.
SMEs are key players in the global landscape, especially in fast paced economic hubs like the Emirates. Because twice as many young Arabs in the GCC shop online now compared to five years ago, eCommerce is a lucrative and high potential sector for entrepreneurs wanting to launch their next big idea. In fact, the Dubai Chamber of Commerce forecasts the UAE eCommerce market is expected to reach US$9.2 billion by the end of 2026 with electronic gadgets, fashion and food leading the way for the growth of the SME sector. However, trying to raise capital to scale up an e-business or working capital to run an eCommerce enterprise is still proving to be a long, intimidating, and tedious process.
Under this landscape, PayTabs facilitates digital payment processing and offers merchants multiple payment acceptance methods including debit cards, credit cards and wallets – while FlapKap enables SME eCommerce businesses in the UAE to leverage on financing solutions via the FlapKap app.  As part of the collaboration, more SME businesses will enable their e-stores to accept mobile, social, QR and online payments seamlessly and securely through the PayTabs payment gateway while availing working capital financing from FlapKap to meet their business inventory purchasing or logistic support requirements, for example.
Commenting on the partnership Neelam Keswani, PayTabs UAE General Manager said, "FlapKap is the ideal partner as they understand the challenges that small businesses face since they operate under a similar eco system. Our partnership enables more web stores to streamline their payment acceptance and digital invoicing so they can focus on obtaining necessary funding to scale their businesses to meet the surging demand for 'online everything.'"
Kunal Harisinghani, FlapKap's VP of Growth added, "Our partnership with PayTabs is one that will add tremendous value to the SME ecosystem. It's the first time in the region that a best-in-class Payments Solutions provider and an innovative Revenue-Based-Funding solution have come together. FlapKap and PayTabs share a similar agenda to impact the SME and eCommerce segments; empowering them with data driven growth opportunities. With the FlapKap solutions being added as an offering for PayTabs merchants, brands can now unlock larger value creation by means of increased inventory purchasing power, marketing optimization, and regional expansion. I am extremely excited about this partnership, and we will certainly be evolving this further continuously to bring growth to our valued merchants."