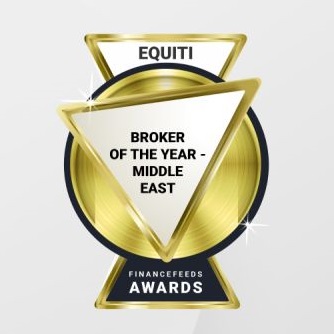 Equiti named Broker of the Year – Middle East at the FinanceFeeds Awards 2023
Equiti's achievement of being named "Broker of the Year – Middle East" at the FinanceFeeds Awards 2023 is a testament to its dedication and success in the competitive world of fintech and online trading. The company's journey and its ability to stand out can be attributed to its unwavering commitment to excellence.
As a trailblazing fintech firm and a prominent provider of online trading technology, Equiti has distinguished itself by offering a comprehensive range of trading products. This encompassing selection includes Contracts for Difference (CFDs) on various assets such as shares, indices, commodities, currencies, cryptocurrencies, and precious metals. By providing such a diverse portfolio, Equiti has not only given its clients access to a wide array of financial instruments but has also empowered them to implement diversified investment strategies effectively.
A standout characteristic of Equiti is its resolute drive to lead the industry. This determination is evident in the company's mission, which centres around delivering personalized solutions, exceptional service, rapid execution, competitive pricing, and continual innovation within the fintech sector. By focusing on customer needs and tailoring its approach accordingly, Equiti has garnered the loyalty and trust of traders worldwide, thus elevating it to a prominent position within the brokerage industry.
Equiti's success story exemplifies the potential for innovation and customer-centricity in the fintech and online trading arena. Its achievement of being recognized as a top broker underscores its dedication to excellence and its ability to provide traders with the tools and resources they need to succeed in today's dynamic financial markets.