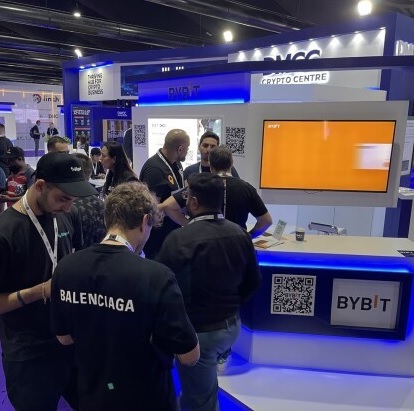 Bybit and DMCC Join Forces for a Stellar Showcase at the Future Blockchain Summit in Dubai
Bybit, the world's third most visited crypto exchange, held a remarkable collaboration with Dubai Multi Commodities Centre (DMCC) at the Future Blockchain Summit from Oct. 15-18 at the Dubai Harbor.
At the Future Blockchain Summit, Bybit and DMCC's booth was more than just a display; it was a window into the concept of The Crypto Ark, where anyone who wants to part of Web3 can find a home. Their shared space was a tangible representation of two titans in the crypto realm.
Bybit's collaboration with DMCC is more than just a partnership; it's a shared dream of making Dubai a pivotal point in the global crypto map. With Bybit's investment of AED 500,000 earmarked to support 15 budding crypto ventures, they're not just making a statement; they're taking action. From hackathons to webinars, Bybit is hands-on in fostering education and growth in the crypto space.
The Blockchain Summit was the perfect venue for the team, with over 150 exhibitors from around the globe converging to explore crucial subjects like crypto security and Web3's integration with gaming. And with COP28 on the horizon, discussions on eco-friendly Web3 innovations couldn't have been more timely.
As part of their deepening alliance, Bybit is already sponsoring the much-anticipated hackathon: "Web3 Unleashed: Crypto Innovation Challenge," which is now open for new entrants to joining the 51 projects already registered at the official page. The final is set for Nov. 22, 2023, with $100,000 up for grabs.
"The way Bybit and DMCC came together at the summit wasn't just collaboration; it was a melding of visions," said Ben Zhou, co-founder and CEO of Bybit. "We're genuinely excited to join with DMCC as we further our 'Grow With The Crypto Ark' initiative with new educational content, AI trading bots, and affiliate portal."