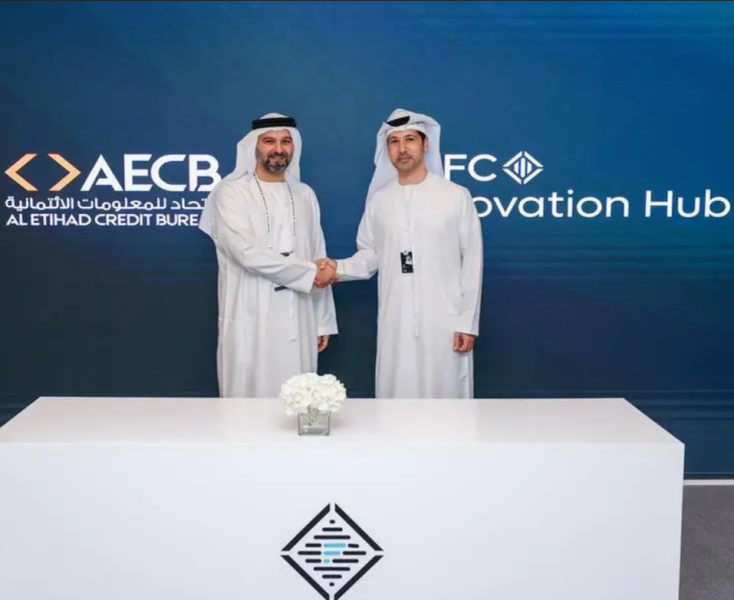 Al Etihad Credit Bureau and DIFC Innovation Hub partner to empower UAE fintech startups
Al Etihad Credit Bureau (AECB), a UAE federal company that provides information and analytics to support credit decisions, has signed an agreement with the DIFC Innovation Hub to foster the development of a partner ecosystem for startups across the UAE.
The announcement was made at the Dubai FinTech Summit 2023 at the Madinat Jumeirah, Dubai.
The collaboration agreement reinforces AECB's position as an enabler of premium fintech solutions supported by a robust, data-driven API ecosystem, and further complements AECB's ongoing commitment to supporting entrepreneurs, start-ups and early adopters within the UAE's fintech sector.
As the region's leading innovation ecosystem with over 650 FinTech and Innovation firms, ranging from start-ups to unicorns, DIFC's regulatory framework provides the ideal platform for collaborative action. AECB will once again boost the fintech sector's growth by enabling pathways of access to unparalleled data utility and ensuring a consistently focused environment for the development and testing of more targeted solutions.
AECB empowers fintech solutions by streamlining reliance in information to facilitate access to credit and increase financial responsibility and awareness. The bureau continues to make itself available as a platform to connect and access credit-related products which will in turn enable the DIFC Innovation Hub community to tap into new data sets to boost fintech development in the UAE market.
The strategic collaboration strengthens AECB's role as a supporter of innovative ecosystems as the sole source of credit information in the country, facilitating access to reliable data for instant business decisions.
Commenting on the collaboration, Marwan Ahmad Lutfi, CEO of the Al Etihad Credit Bureau, said, "We are delighted to collaborate with DIFC Innovation Hub to empower the fintech startup community and enable innovation and growth in the UAE fintech sector. This collaboration aims to play a pivotal role in the fintech sector's development as we work towards shared goals of facilitating SME growth, fostering innovation and enabling the UAE to become a centre for FinTech ecosystem. We look forward to working closely with DIFC Innovation Hub to develop initiatives and programmes that will empower new business opportunities and expand the reach usability of credit scores and indicators to the wider fintech and business sectors."
"With a UAE-wide database which includes more than 15 million individuals and companies and over 27 million credit facilities and contracts, AECB has become critical infrastructure in supporting digital decision-making to further enhance economic sustainability. Our collaboration with DIFC Innovation Hub will further support the nation's vibrant start up economy and its ongoing reliance on accessing advanced data and analytics," Marwan added.
Arif Amiri, CEO of the DIFC Authority added, "At DIFC we are passionate about bringing talent to the forefront of everything we do. Dubai's ecosystem and the DIFC Innovation hub brings start-ups, scale-ups, and financial institutions like AECB together, to ultimately drive growth in an agile, yet solid regulatory environment that facilitates dialogue that delivers sustainable innovation. The Dubai FinTech Summit is amplifying this notion, and we look forward to further drive this ambition forward for the benefit of the industry."