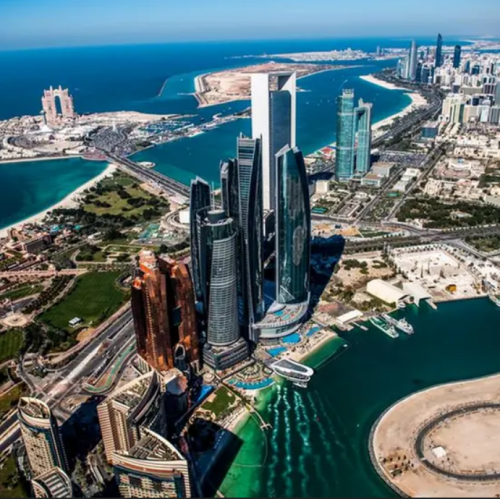 10,000 financial leaders from 100+ countries in Abu Dhabi to debate 'Investing in a transition era'
Under the patronage of His Highness Sheikh Khaled bin Mohamed bin Zayed Al Nahyan, the Crown Prince of Abu Dhabi, and Chairman of the Executive Council and presented by Abu Dhabi Global Market (ADGM) with the Abu Dhabi Department of Economic Development as headline partners, ADFW Abu Dhabi Finance Week (ADFW) 2023 edition is gearing up to host its grand second edition with the world's financial leaders set- to debate its core theme 'Investing in the Transition Era' and has announced its gripping agenda for each theme day.
ADFW's four-day series which will run from 27th – 30th November 2023, will host 36 events, and 180 different sessions, with the heads of hundreds of investment funds with assets under management of more than USD 1 Billion, representing cumulative assets under management of USD 27 trillion – a whopping 22% of the global GDP- and dozens of the world's highest net worth individuals.
Commenting on the diversity of ADFW agenda and its holistic approach, His Excellency Ahmed Jasim Al Zaabi, Member of Abu Dhabi's Executive Council and Chairman of ADDED and ADGM said, "Abu Dhabi Finance Week's second edition has evolved to a much more sophisticated platform within just a year of its launch and is gathering the attention of important international audience. The phenomenal agenda for this year brings together critical topics and high-level individuals representing an array of perspectives from various industries, that directly or indirectly contribute to tackling challenges and harnessing opportunities within a transition era. We are excited to host this remarkable edition of ADFW in a few weeks from now and bring this groundbreaking platform to the financial industry."
The official opening ceremony on 27th November will kick start with the presence of the heads of the global leading investment and financial firms. The same day will continue with the inaugural Abu Dhabi Economic Forum, a by-invitation high-level leadership forum, that will unveil key facets of Abu Dhabi's stable and growing economy. It will hear perspectives on the rising Falcon Economy, offered by the heads of Abu Dhabi's top Sovereign Wealth Funds (SWFs) and several key UAE Ministers, along with the heads of global financial institutions expressing their views on why they have chosen Abu Dhabi as a base for their business operations.
On the second day, the Asset Abu Dhabi conference begins and will analyse the evolving investment strategies of hedge funds, private equity houses and venture capital giants across the global markets. The conference will also concurrently host two other forums focused on the investment strategies of International Family Offices and Turnaround & Restructuring. Key sessions at Asset Abu Dhabi include '10 Rules of Successful Nations' by Rockefeller International Chairman Ruchir Sharma, a unique conversation on 'The Keys to Managing Money & Risk' between former UK Chancellor – George Osborne and Hedge Fund Head – Alan Howard and a special roundtable focused on 'Forecast to 2030' with the Chairman of Hong Kong Exchanges & Clearing – Laura Cha and C-suites of Goldman Sachs, Circle and Tikehau Capital.
The series continues on 29 November with the thematic day for the intersection between finance and technology – Fintech Abu Dhabi. The 7th edition of MENA's biggest Fintech Festival includes specialised AI, Blockchain and Risk & Security forums. Highlight sessions of this theme day will include debates on the financial crime economy and also bring together key Abu Dhabi AI institutions to discuss 'Why Abu Dhabi was Talking About AI Before It Was Cool'. It will convene the heads of key institutions to ask if 'Crypto has finally reached a time to grow up', and Professor Alexander Lipton, Global Head of Quantitative R&D, ADIA will present his thoughts on 'How social media is re-wiring the global banking playbook'. The CEO and Founder of Circle, Jeremy Allaire, also has a dedicated session on the day to discuss strategies to evolve digital assets into useful tools for global financial stability.
The last day of ADFW is dedicated to the theme of sustainable finance and will coincide with the opening sessions of COP28. R.A.C.E. (Regulation, Awareness, Collaboration & Ecosystems) Sustainability Summit will ask the critical question – 'will climate finance represent the greatest capital reallocation in the history of mankind?' and will try to identify available ways to bridge the 11 trillion-dollar capital gap needed to reach net zero goals.  It will also livestream the opening ceremony of COP28 for its attendees.
The Global Financial Regulators Summit, a key closed gathering of 15 global financial regulatory leaders which will be conducted on the 29th of November alongside Fintech Abu Dhabi, will present its outcomes the next day, during R.A.C.E.
ADFW is open for registration and is providing different types of tickets to experience its groundbreaking second edition. Register yourself and GET YOUR TICKET now.